---
THE OTHER SIDE OF VIGAN
Before the Spanish colonial rule, the old Bigan had been long traded with the "Sanglay" Chinese traders for it's nice port. Ships from Macau and India also traded in Ilocos. Vigan is known for its Spanish-style brick houses and religious Mecca in North Luzon. The town was founded by Juan Salcedo, grandson of Miguel Lopez de Legaspi who founded the city of Manila. Conquistador Salcedo went to the Ilocos and established a military settlement in Vigan on June 13, 1572, which two years later, he named Villa Fernandina. When Salcedo set up Villa Fernandina near the old settlement of Vigan, he erected a small wooden chapel along the Mestizo river and later the Villa joined Vigan and grew fast as an economic, ecclesiastical and political center. An old map (1753) indicates that Vigan itself is an island and had an important strategic military value at that time. Later established into a poblacion and into Ciudad Fernandina in honor of Prince Ferdinand, first born son of King Philip II of Spain. It's the third city built by Spaniard colonizers in the 18th century after Cebu and Manila. Juan Salcedo, the conquistador, died in 1576 while inspecting a gold mine at the foothills of encomienda.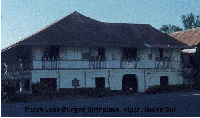 Our national heroes like Diego and Gabriela Silang, Padre Jose Burgos, poetess Leona Florentino, labor leader Isabelo de los Reyes are the "sons and daughters" of Vigan. It became the center of Silang's Ilocos rebellion in 1762 during the British occupation of Manila. It was also Philippines'political hot bed after World War II under Philippine president Elpidio Quirino's regime. Vigan then ruled by an abusive and corrupt political dynasty for decades. We witnessed the abuse of power and greed on those years. The freedom of the press was under attack. I think no journalists or radio commentators dared to expose the ruling clan's repression, massive graft and corruption and terrorism. Even the influential Roman Catholic Church practically collaborated with the ruling class. The bloody feud between political clans began with the struggle to control the tobacco trade. Many innocent civilians were displaced and caught in a crossfire between warring clans. The cycle of patronage, opportunism and fraud is a way of life then. Several years after the People Power Revolution in 1986 a new breed of administrators who are reformists and dedicated public servants in handling Vigan's local affairs. We hope to see a better quality of life in the next century.
WELCOME to Vigan and ENJOY the Ilocano hospitality.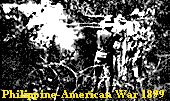 Visitor #
times.

---
Copyright © 1996-1998 F. Amores All Rights Reserved