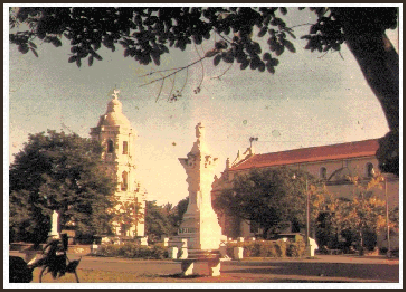 Auburn, N.S.W., Australia
A TOUR OF VIGAN
---
Depending on the time you have available on your hands, the following itinerary is highly suggested;
It is best to travel to Vigan late at night, to avoid the traffic, dust and heat, arriving there at dawn also give you an uncluttered view of the countryside in softer light. You may take the air-conditioned bus going straight to Vigan or Laoag. Make sure to tell the driver or conductor where you are going so they will wake you up. A horse-drawn calesa or a motorcycle driven tricycle could then be hired to drive right at the door of your hotel.
Accomodations could be secured without reservations at many old Vigan-house type hotels: the New Vigan Hotel back of the Cathedral, the grander Aniceto Mansion, Villa Angela or the seedier Granpa's Inn deeper in the mestizo district.
For breakfast, you must have Vigan's spicy longaniza(sausage) and liempo(fresh & tender portions of beef, innards and onions leaves broth)specially bought very early at the slaughter house.
You may want to have a quick swim in one of the many beaches. The nearest is Mindoro beach near the airport which is some 5 kilometers west or Pandan/Fuerte beach which some 10 kilometers south passed University of Northern Philippines and Gabriela Silang General Hospital. If you want to stay longer, Paraiso ni Juan in Narvacan, San Juan and Cabugao offer cottages to stay but some distance from Vigan.
If you are less active, you may can hear the morning mass at the St. Paul's Cathedral or the cemetery chapel both located at the opposite ends of the 1 kilometer main business street; Quezon Ave. The cathedral is a classic example of Philippine-Gothic architecture with Chinese decorations. The chapel looks like a Spanish mission in Mexico. Their appeal are exactly opposite: pompous, huge and intricate for the metro cathedral, humble and plain for the chapel.
Some of our favorite delicasies: Vigan royal bibingka(rice cake), turong mani(peanuts), fried empanada (vegetables) and fried ukoy (shrimps), sinanglaw ( beef innards, tongue) which some non-Vigan call pinapaitan because of the gall bladder sauce. But these are better taken late afternoon with beer or gin or after a vigorous jogging when your appetite at at its height therby defeating the slimming purpose of the exercise. Pipian is one of Vigan's favorite. It's a combination of pork and chicken cooked with ginger,camias, grounded roasted rice as soup thickener added with pasotes leaves that makes the taste unique. Another favorite roadside fare are; chicharon, bagnet ( lechon kawali) and dinardaraan.

Cap your tour by walking to Vigan's complex of plazas, churches, Padre Jose Burgos'House (Ayala Museum), Crisologo Museum, Syquia Mansion (Pres. Elpidio Quirino's House), public buildings and antique shops and old residences in what collectively known as Vigan's Intramuros or the Chinese-Spanish-Mestizo district. A well-preserved and inhabited 16th century Philippines.
Should you may have more days to spend, Ilocos Sur is full of beaches to swim and get tanned. Go visit the various Ilocos churches in different towns, cottages industry almost very town got their unique feature products: abel (hand-woven blankets) in Caoayan, burnay (clay jars) in Vigan, gold jewelries in Bantay, bamboo furniture in Sto. Domingo, wood carving in San Vicente, temperate vegetables in Sta. Catalina, machete in Santa, etc. You can try cockfighting and dancing in the plaza during town fiesta. But of course, just visiting close friends and relatives, sharing jokes, chismis and their endless hospitality is always golden moments that highlights any Vigan visit.
There is always something new or different to do or see in Vigan. I was born and grew up to maturity there, yet I never in an instant felt boredom. The activities and the sights are so varied and numerous, coupled by the welcoming warmth of relatives that never get tired of going home to Vigan.



Visitor #

times.

---
Copyright © 1998 R.F. Amores All rights reserved